In recent years, the country's tourism industry has witnessed positive signals along with the increase in inflow of foreign tourists. Intending to promote the country's tourism further and give continuity to the growth momentum, the government has announced 'Visit Nepal 2020' tourism campaign. However, tourism stakeholders doubt whether the growth momentum in tourism sector will continue further owing to lack of necessary tourism infrastructure in Nepal. Against this backdrop, Sujan Dhungana of The Himalayan Times spoke to Rabindra Adhikari, minister of culture, tourism and civil aviation, to know about the government's readiness to mark the tourism campaign in 2020 and other tourism-related issues. Excerpts:
How would you evaluate the current state of tourism in Nepal?
Nepal's tourism sector has been in an upward trend in recent years owing to the rise in inflow of foreign tourists and diversification of tourism activities. While almost one million foreign tourists visited Nepal in 2017, tourist arrival figures will certainly grow further in 2018. Data show that tourism industry contributes 3.5 per cent to the country's gross domestic product (GDP). However, the actual contribution of the sector to the GDP has increased in recent years. In the past, we talked about the sector's growth without determining any targets. However, the government this time has set a target to bring in two million foreign tourists annually by 2020 and we are committed to achieving the target. Most importantly, the country is marking 2020 as 'Visit Nepal Year' and preparations are under way to make the event grand and successful. The 'Visit Nepal 2020' campaign has created a momentum in the tourism industry, increased tourism activities and boosted the morale of the tourism fraternity. However, observing 'Visit Nepal 2020' does not mean that we will promote the country's tourism only for that particular year. The event will be a milestone to promote Nepal as a tourism destination in South Asia. As known to everyone, the state of tourism infrastructure in the country is not good. Unavailability of adequate and proper infrastructure has remained one of the major setbacks to the country's tourism growth. Thus, the key to unleash Nepal's tourism potential is developing competitive infrastructure, especially related to air-connectivity and airports. Standardisation of Tribhuvan International Airport (TIA) and operation of the Gautam Buddha International Airport in Bhairahawa are the two major priorities of the government, besides constructing other planned airports and increasing Nepal's connectivity to the world markets. We will complete the rehabilitation of TIA and operate international airport in Bhairahawa by 2019. Similarly, we also plan to complete the reconstruction of all cultural and heritage sites and enhance tourism promotion activities in China and India within 2019. Once these tasks are accomplished, the tourism industry will become the major driver of the country's economy in coming years. The sector will generate enormous employment opportunities too.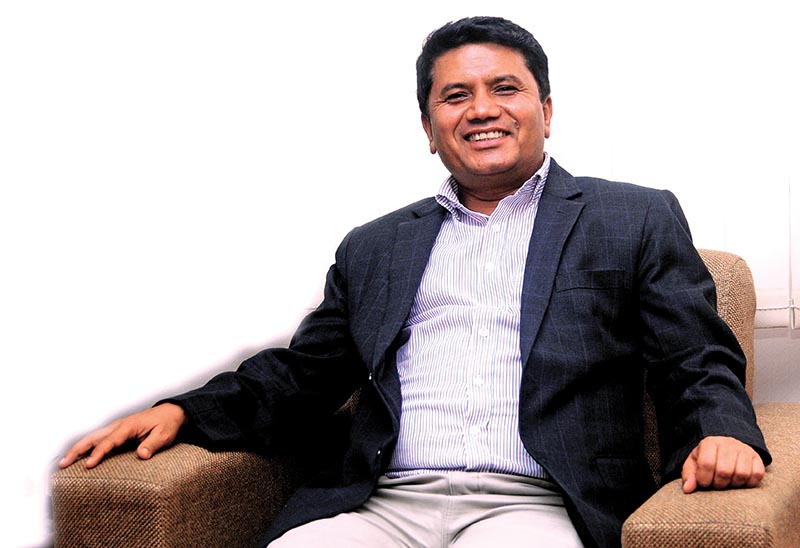 You mentioned about weak infrastructure being a bottleneck to tourism growth. What are the challenges that the government is facing in addressing infrastructure deficit?
It is not that the past leaderships did not feel the need to enhance tourism infrastructure to promote tourism in the country. However, development of tourism infrastructure was limited only to speeches and plans, while no serious approach was made to address the infrastructure deficit. However, the current government is serious towards enhancing the country's tourism infrastructure. As mentioned earlier, the government is committed to operate Gautam Buddha International Airport and rehabilitate TIA by 2019, increase Nepal's air connectivity to different foreign destinations, coordinate with other governmental agencies to assure proper road
connectivity and increase tourist accommodation capacity of the country. It is also a bitter fact that we have failed to encourage private sector investment in the tourism sector. Though we have always harped about facilitating private investment in the tourism sector, we have not been able to move ahead accordingly. Likewise, Nepal has not been able to produce qualified human resources in the tourism industry. It is just recently that a few colleges have begun offering higher studies on tourism. All these factors have been impeding the growth of tourism in Nepal. Acknowledging the need to produce qualified human resources in the tourism sector, the government has recently come up with a plan to establish a 'tourism university' in the near future. Similarly, Nepal has not been able to promote its tourism products in the international market. Thus, there is a need to identify feasible tourism products in the country and sell them in the global market through effective campaigning and branding.
You have claimed that the international airport in Bhairahawa will start operating by 2019. What is the progress status of the airport?
Upgradation of the Bhairahawa airport is going on effectively at present. When I joined the Ministry of Culture, Tourism and Civil Aviation, the physical progress of the planned Gautam Buddha International Airport was 27 per cent and there was confusion on whether to move ahead with the project or step back. As per the latest report, more than 50 per cent of physical works of upgrading the Bhairahawa airport has been completed. The project will achieve significant physical progress within the next three months. Of the remaining works of the project, almost 70 per cent is related to civil works while 30 per cent to mechanical and electrical components.
Though the government has set a target to draw two million foreign tourists annually by 2020, a few surveys have shown that the country is already receiving the targeted inflow of foreign tourists annually. Why is there this discrepancy in available data?
It is true that Nepal is currently receiving more tourists than what the official statistics show. A recent survey carried out by government revealed that over 1.2 million Indian tourists visited Nepal via land routes through six different entry points in last fiscal, which has not been included in official statistics of 940,000 foreign tourists who visited Nepal in 2017 via air routes. Any foreigner, who comes to Nepal and stays for a few days and spends money, can be termed a tourist. Interestingly, the survey has even shown that a few Indians who visited Nepal through land route spent more time and money here compared to average spending of foreign tourists coming via air routes. However, our database is very weak. Moreover, contribution of tourism sector to national GDP is already almost eight per cent while our official statistics show the contribution to be only 3.5 per cent. Our data collection, recording and evaluation have remained poor in the past. Thus, we have planned to improve our data management system, so that we have a clear picture of the actual scenario and we can devise plans and programmes accordingly.
Lately, the private sector seems to be unhappy with the government's lethargic preparedness for the 'Visit Nepal 2020' campaign. What is your take on this?
It is not that the government has overlooked preparations for tourism campaign in 2020. Major works related to identifying new tourist destinations and developing tourism promotional portals in different languages have been completed. We will soon give full shape to planned committees, who will look into issues dealing with 'Visit Nepal 2020' campaign. However, we are discussing feasibility and effectiveness of appointing a chief executive officer (CEO) for campaign besides determining national coordinator and other committee members. National coordinator and other committee members will be serving campaign on a voluntary basis while the CEO will take up the entire responsibility of the campaign professionally.
Meanwhile, Southeast Asian nation Malaysia, which is more advanced in tourism industry and infrastructure, has announced a similar tourism campaign in 2020. Will this not affect the tourism campaign of Nepal?
I believe it will not necessarily affect our tourism campaign in 2020 as Nepal has its own peculiar tourism environment. However, we must be sincere in offering tourism products that are the best and most competitive. Similarly, we also need to make optimum use of Nepal's diplomatic agencies abroad to promote the 'Visit Nepal 2020' campaign. I assure that the campaign will draw the attention of the global tourism fraternity and promote Nepal as a competitive tourist destination.
---
A version of this article appears in print on August 21, 2018 of The Himalayan Times.
---